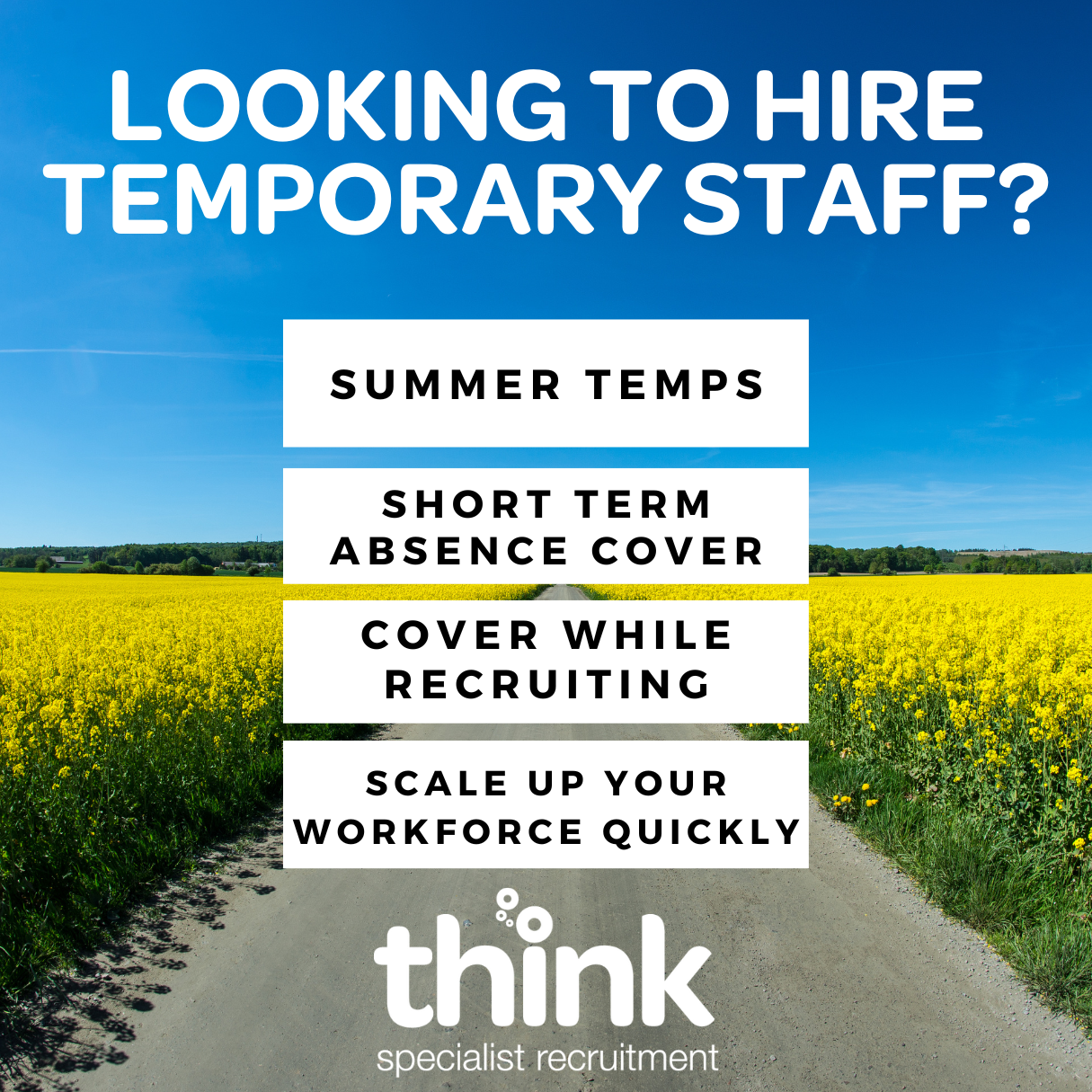 Hiring temporary workers can deliver a range of advantages for your business - whether by supporting your current staff during seasonal increases in demand, or bringing new skills and expertise into the company for a specialist project. If you've currently got a skills gap in your business, a temporary worker could be the solution you need.
Especially with the summer holidays not too far off, our clients will start thinking about their staffing needs over the next few months, to provide cover while people are away. There are also many other reasons why temps are a great option, and as seasoned experts in providing temps to large and smaller businesses, we have put together a list of why it could be time to consider using temps:
1. Scale up your workforce quickly
Whether it's covering for holiday or dealing with the ups and downs of your sales cycle, resource requirements are never linear - there will always be peaks and troughs. Temporary staff help to smooth this out, covering for holidays or responding to increase in customer demand or seasonal highs. They can be provided at short notice by agencies like us who have a pool of fully vetted temps, with a variety of skills, ready to go.
2. Fast-track hiring
Temporary workers can usually start working within a few days, avoiding long notice periods or interview processes. Hiring temporary workers is also a great way to test a candidate for a potential permanent position without the commitment of a fixed-term contract. So, if you're thinking of expanding a certain function with your business but are unsure on the exact resource you need, hiring a temp could be the best move.
3. Flexibility
Temporary staff offer an unrivalled flexibility. Turn the resource on and off to meet demand or perhaps just get a temp in to cover the busy slot over the summer. Temporary resource is designed to be flexible to your company's requirements, ensuring you only have the resource and pay for it when you need it. Temporary workers can also be brought in to provide cover for both long and short-term absences (such as maternity leave or sick leave), or to work as interim staff if an employee leaves the company at short notice
4. Control your costs
A temp workforce allows you to add staff without increasing your permanent headcount and costs. You can hire multiple temps to cover spikes in demand, with no long-term commitment when your workload goes down.
5. A fresh set of eyes
Often what is needed is a fresh pair of eyes to see where the priorities lie. As frustrating as it might feel, having someone come in and show where things could improve will make your company and your role much more efficient. It's hard when you've been in a job for a while and you can't see the wood for the trees! Temps can offer a different perspective on an issue or opportunity.
6. Resource cover while you're recruiting
You need resource and you want to recruit someone permanently into your team, but most permanent resource will have at least 4 weeks' notice. Temp staff can bridge that gap, taking the pressure off whilst you find the perfect candidate.
We have invested a large amount of time to ensure that we have robust processes in place so that both our clients and candidates are receiving the best possible service. Our ability to find and place high quality candidates coupled with our great online timsheet, approval and invoicing system allows us to provide a stress free process for Clients.
All of our temporary workers are fully referenced and checked for both proof of ID and eligibility to work in the UK.
If you are interested in finding out more about our temp service, contact our Temp team leader Bobby on [email protected] or our consultants Beth [email protected] and Craig who looks after our Accountancy and Finance temps [email protected]. Or alternatively, register your temp vacancy here.
Share