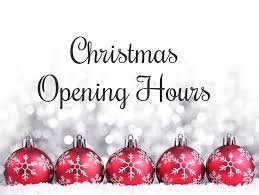 We are pleased to confirm our working ours for the Christmas period!


Christmas Eve - open until 1.00pm
Christmas Day - closed
Boxing Day - closed
27th December - closed
28th December - closed
31st December - closed
1st January - closed (happy New Year!)
January 2nd onwards - open from 8.30am
PLEASE NOTE: All of our staff will be picking up emails over the festive break so willl be able to respond to any urgent messages.
Should you need to contact any of the team urgently, please see below for contact details:
TEMP TEAM FOR PAYROLL OR ASSIGNMENT QUERIES - please copy and paste this link into a new window in your browser before contacting us about payroll/timesheet queries https://www.thinksr.com/news/christmas-timesheet-instructions/
Alex Ellis - [email protected] - 07711 702110
Bobby Collins - [email protected] - 07523 512416
From all of us at the Think Specialist Recruitment team - we wish you a Merry Christmas and a Happy New Year!
Share