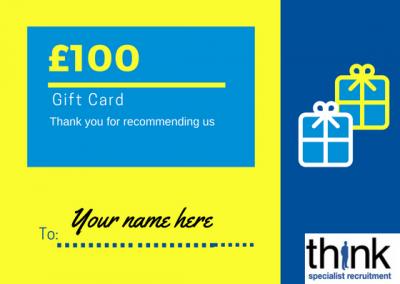 £100 for a few kind words? Yes please :-)
Are you one of our happy clients or candidates and would reccomend the service we've provided you with?
Recommendations from our advocates play a really important part in our growing business and we really value them. We have some fantastic relationships that have grown from a refferal.
If you've had a great service, we'd love you to tell other people. You know us, and how we work and you might also have people in your network that need the same kind of trusted service.
To show how much we appreciate you being an advocate of ours, we have an excellent reward scheme in place.
Refer a friend: For every candidate referred to us that we successfully place, you'll receive £100 in vouchers of your choice (yes that does say of your choice!)
Refer a Vacancy: For every vacancy referred to us, which we successfully fill, you'll receive £100 in vouchers of your choice.
And although you can't put a price on kind words, we think its a great way of thanking our clients and candidates for their loyalty.
Do you know someone looking for work in a head office environment? Or someone looking to recruit candidates?
Get them in touch with us today and get your reward!
Share