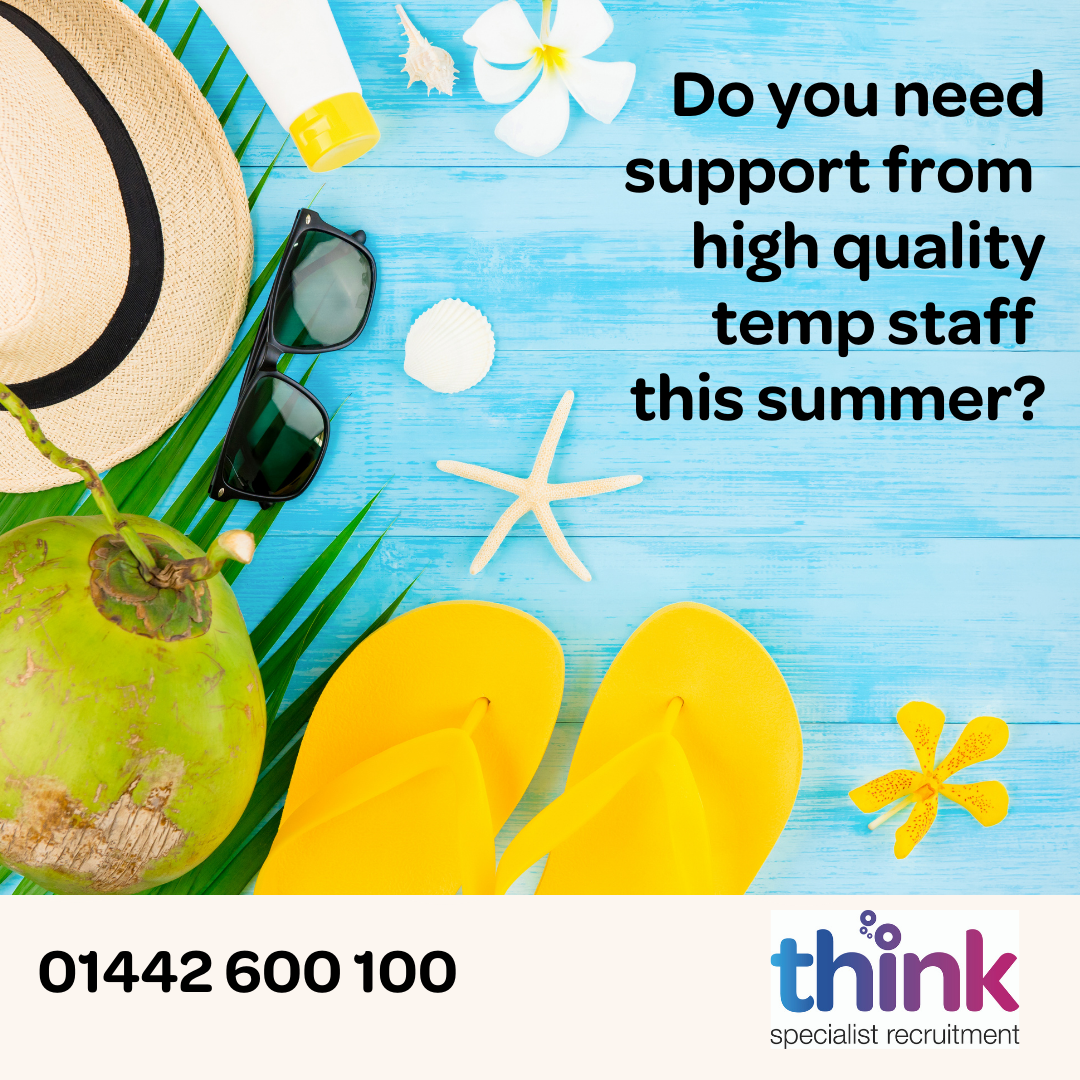 Finally, we've got some summer holidays to look forward to, after Covid has stopped that in the past few years. Temporary staff are often needed to help support businesses of varying sizes and in our experience, can be a fantastic solution for many reasons.
While it is an opportunity to get some great candidates into your business, as a risk-free option, it also provides a test run for both business and candidates alike. We have a very strong temp to perm conversion rate, that means we have a strong record of placing a very well-matched temp candidate, who is then asked by the business to stay on permanently.
High quality temps like we provide, are also a strong solution to short term issues, like staff holiday absence, so we have put together a list of why it could be time to consider using temps:
Dealing with the peaks and troughs
Whether it's covering for holiday or dealing with the ups and downs of your sales cycle, resource requirements are never linear - there will always be peaks and troughs. Temporary staff help to smooth this out, covering for holidays or responding to increase in customer demand or seasonal highs.
Try before you buy.
You've created a new role and you've still got a couple of question marks over the right person for the job. Why not consider a temporary person? They will help to shape the role and highlight the critical skills and capabilities you need for the best fit. You may even find they're perfect for the job themselves and they stay on indefinitely. As part of our 100% Perfect Placement, we offer a day's working interview with our temporary assignments so if you're not 100% happy we won't charge you for that 1st day.
Flexibility
Temporary staff offer an unrivalled flexibility. Turn the resource on and off to meet demand or perhaps just get a temp in to cover the busy lunchtime slot over summer. Temporary resource is designed to be flexible to your company's requirements, ensuring you only have the resource and pay for it when you need it.
Speed of access
You win a major new bid, take on a new project or investment and it needs to commence immediately. How do you resource it? Like most recruitment agencies offering temporary staff, we have a bank of temps available immediately or at very short notice. You don't have to wait for 4 weeks' notice to obtain the resource you need. Our temps also have their employment history checked for a least 12 months previous so we can match skills sets when something specific is needed.
A fresh set of eyes
Often what is needed is a fresh pair of eyes to see where the priorities lie. As frustrating as it might feel, having someone come in and show where things could improve will make your company and your role much more efficient. It's hard when you've been in a job for a while, and you can't see the wood for the trees! Temps can offer a different perspective on an issue or opportunity.
Great experience
Temps have the specialist skills you require, but they also bring a host of experience too. Whether that's from a different industry or from one of your competitors. They have worked this role in other companies and will bring this experience for you to utilise.
Bide your time for that ideal permanent resource
You need resource and you want to recruit someone permanently into your team, but most permanent resource will have at least 4 weeks' notice. Temp staff can bridge that gap, taking the pressure off whilst you find the perfect candidate.
A cost effective solution
Temps are often seen as a costly resource alternative, but this is certainly not always the case. Overtime for permanent staff can prove more costly than taking on temp resource in high demand times. Plus, temps don't require you to offer additional benefits, salaries or paid time off, which can help decrease overheads. We also have an excellent timesheet portal system making it very straightforward for online timesheet approvals.
Have we encouraged you to find out more? Contact Bobby, our Temporary Division Manager, for an informal chat or email him on [email protected]
Share