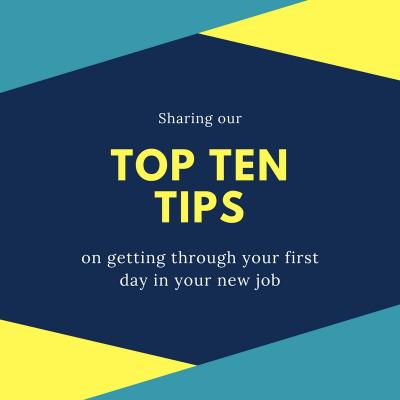 O

ur highly experienced consultants support our candidates through their first day in a new job on a regular basis, so we decided to share their top tips for helping ease those first day butterflies and get you off to a great start:
1. Ask questions if you need help or don't understand something – your new team will be prepared for you to ask things and it can help encourage conversations within your team as well.
2. Smile! It will make you appear more approachable.
3. Join in conversations – it shows you're interested in making connections
4. Take notes – no one can remember everything, and it makes a great impression
5. Don't be scared to take your (lunch) breaks – it's good to step away from your desk and take a breather!
6. Dress smartly – even if it's 'smart casual' be on the smarter side until you've scoped out what is acceptable - clean and neat always works best!
7. Avoid using your mobile phone during work time – focus on your new job.
8. Be patient and allow yourself time to settle into the role and learn everything – you might want to 'hit the ground running' but give yourself a chance to absorb information and learn too.
9. Ensure you provide feedback to your new employer in your first few months. If you have any concerns it is important to give them the opportunity to help you.
10. Finally - enjoy it! You've been through the recruitment process and you've been picked as the right person for the job!
Have a fantastic first day :-)
Share