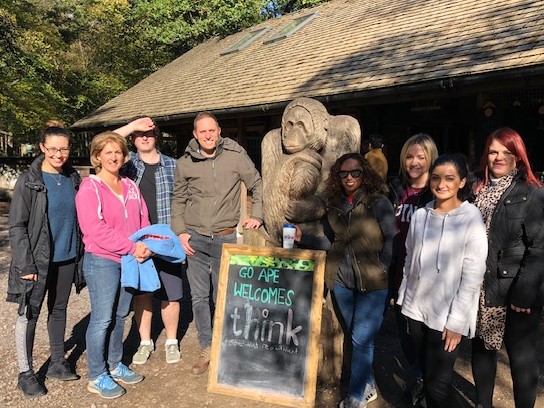 Off we went for a full on forest adventure starting off with a Segway Experience and then onto the Tree Tops course.
The Segways were great fun and there was a bit of jostling for first place in the speed stakes! We travelled as a team through the woods, over some undulating ground and stopped for our guide to point out some exciting settings - where Harry Potter and Star Wars had been filmed! Aside from the 'helmet hair' we made it back to base unscathed and ready for the climb up.
For the Tree Top Adventure, we all gave it a go! Despite the wobbly ladders getting taller and taller (and more wobbly) for each course, everyone took the challange as far as they could. Our die hard heros were Chris, Bobby and Tasnim (our newest team member!) who were flying through the treetops tackling the dizzy heights with the highest platform being 11 metres and the longest crossing being 25 metres! There was lots of encouragement and support from the ground from those that didn't do the more challenging platforms so we really did work as a team.
We finished up with a lovely dinner and drinks which we were well and truly ready for. A great day was had by everyone.
Share