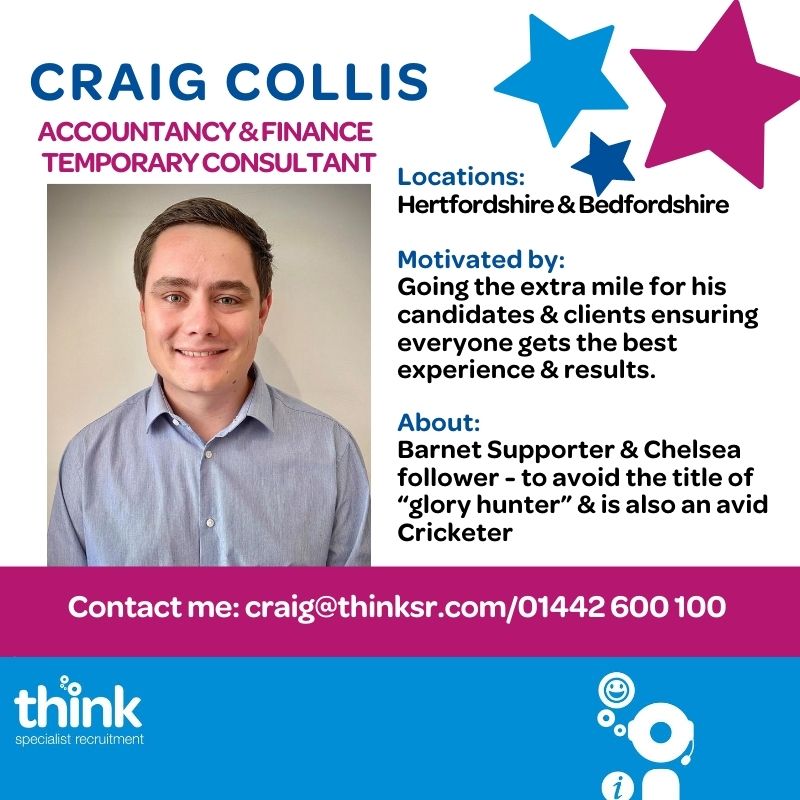 A rather belated welcome to Craig Collis who joined the team a couple of weeks ago!
Craig teams up with Clare Baker in our Think Acccountancy & Finance division to recruit for temporary and interim finance roles at all levels across our client base. Having spent 5 and a half years within finance recruitment in the Hertfordshire and Bedfordshire area, Craig is an experienced Consultant who brings a fantastic candidate management and vacancy filling skillset to the Think business. Really importantly, he fits our core values and will be a great fit to our team and the clients we work with.
We're looking forward to Craig growing the Think Accountancy & Finance division alongside of Clare who has made fantastic progress since she joined the business in February this year. Despite the impacts of Covid-19, Clare has made permanent placements across the Herts, Beds and Bucks area and is currently recruiting for several roles.


Clare Baker (permanent recruitment - clare@thinksr.com) and Craig Collis (temporary/interim recruitment - craig@thinksr.com) are responsible for recruitment across the following areas:
Accounts Assistants and Bookkeepers
Sales, Ledger/Accounts Receivable and Purchase Ledger/Accounts Payable
Payroll
Accountants (part and fully qualified)
Finance Managers
Financial Controllers and Finance Directors
If you would like to find out more about our services please contact Clare or Craig on 01442 600100
We're looking forward to continued growth of our Accountancy & Finance division over the next few months and beyond!
Share