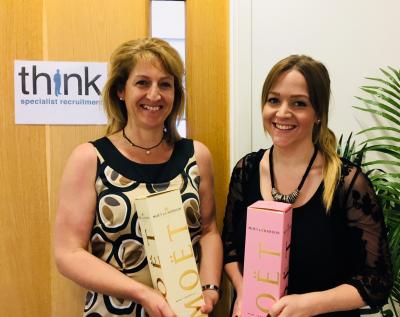 Last week marked some very important milestones for two of our team here at Think Specialist Recruitment!
I am pleased to say that our Temps Consultant, Alex Ellis, has arrived at her 2 year milestone. Alex is an asset to our team who builds great relationships with our clients and candidates alike and keeps her colleagues smiling. She was presented with a bottle of Pink Moet (she's a big fan of all things pink) which we hope she'll enjoy as a reward for her hard work and commitment.
I'm also pleased to say that Kate Miller, our Business Manager, has arrived at her 4 year milestone. Kate is the go to person in the office and supports the team through playing a variety of roles. Her honesty and hard work are a valuable asset to us and we hope she will also enjoy her Bottle of Moet as a thank you for her commitment.
Here's a picture of them both - before the bottles dissapear :-)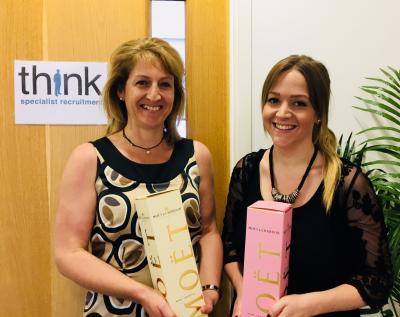 Share