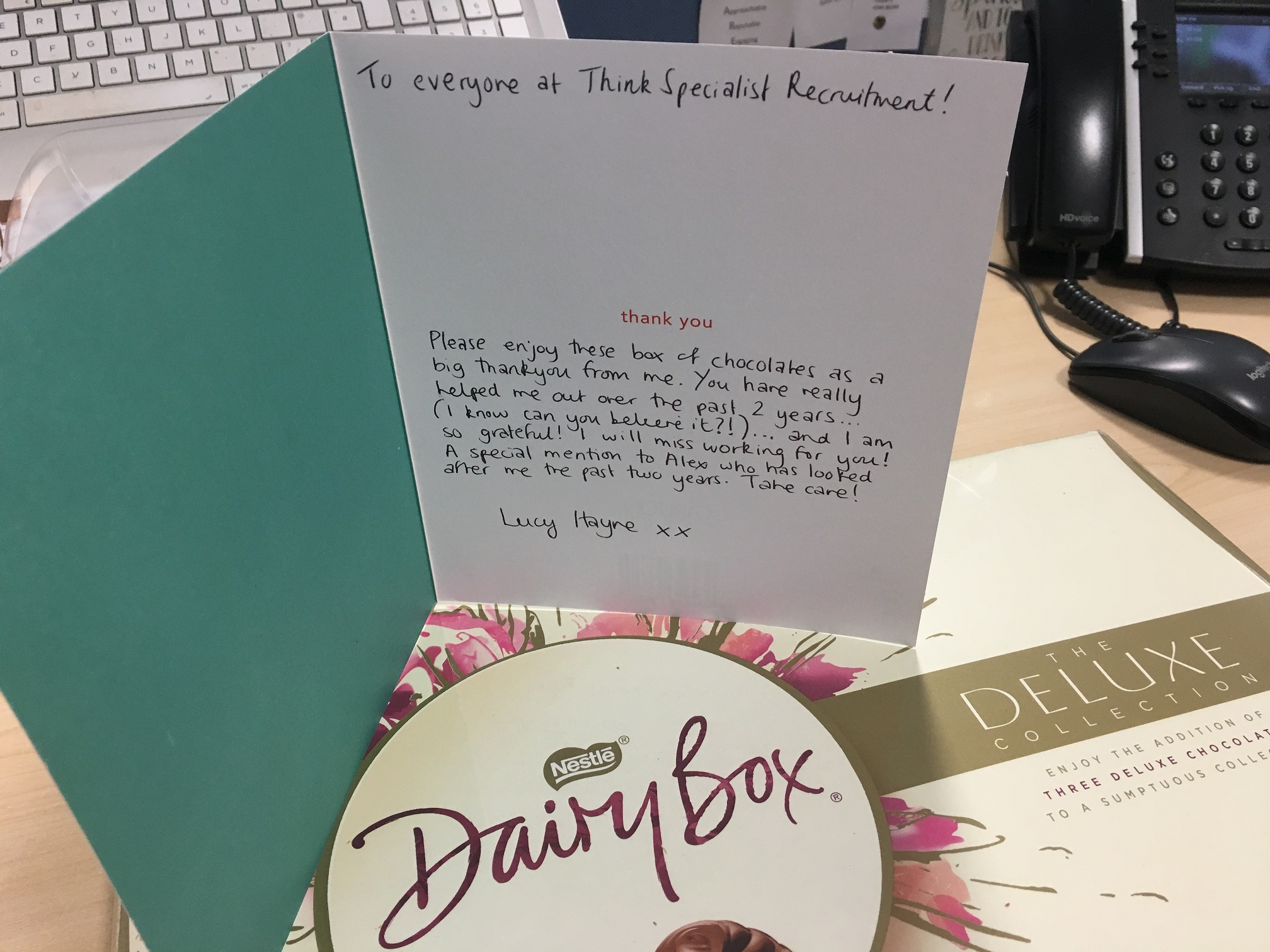 We were pleased to receive a lovely gitt from a long-serving temporary worker today!
Lucy registered with us 2 years ago after graduating, not sure of what career path to take and looking to gain some invaluable office experience. A friendly, down to earth and personable candidate, we placed Lucy into several long-term temp assignments across the Watford area and she proved to be an incredibly dilligent, reliable and hard working candidate who represented us fantastically well.
We were really pleased to hear that Lucy was offered a permanent role at a client where she's been temping for several months and she was kind enough to send the team (in particular, Alex) some chocolates and card with a lovely message inside.
Lucy said: "To everyone at Think Specialist Recruitment, please enjoy this box of chocolates as a big thank you from me. You have really helped me out over the past 2 years and I am so grateful! I will miss working for you! A special mention to Alex who has looked after me for the past two years. Take care!"
Many congratulations and good luck to Lucy in the future!
If you are looking for temporary work and would like to hear more about Lucy's journey and how we can help develop your own career, please get in touch with the team who will be happy to help - 01442 600100
Think Specialist Recruitment is an independent support staff recruitment agency based in Hemel Hempstead and working across the Herts, Beds and Bucks area. We specialise in permanent, temporary and contract recruitment with areas of expertise including: administration, customer service/call centre, PA/secretarial, human resources, accountancy and finance, sales admin/sales support, marketing and IT Helpdesk/IT support.
Share