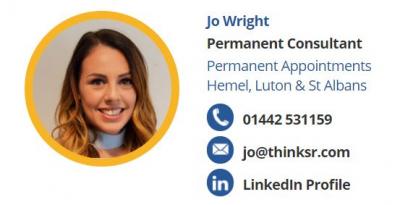 We were pleased to receive a glowing testimonial through for a member of our Permanent recruitment team, Jo Wright, this week. Jo has recently recruited 2 members of staff for a Hemel Hempstead based SME, who provided the following feedback....
"We have worked closely with ThinkSR for the recruitment of an Administration role and a specialist Project Manager and have been extremely pleased with their professional approach throughout. Their thoroughness in understanding our requirements in detail at the outset was a key factor in being able to provide CVs that were closely matched with the requirements. In particular, Jo Wright has managed our account with clear, regular communication and has personally interviewed potential candidates prior to their CVs being sent over to ensure they met the key criteria. Overall, an all-round great experience of using a recruitment agency and I would highly recommend their services."
Please see Jo's contact details below should you wish to discuss your company's recruitment needs or your job search.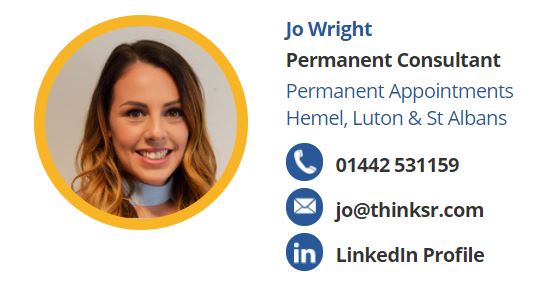 Share