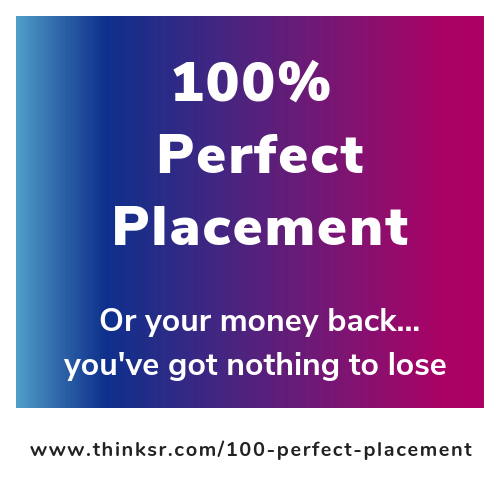 'A guaranteed service - isn't that unusual in recruitment?'
We've been asked that before but we consider our high level of service to be one of our biggest business assets.

Everyone in our team is committed to working hard and getting the best results for our clients and candidates. That's why we've had some fantastic reviews which we are really proud of.
But most of our clients don't realise we have our own service guarantee. We probably need to talk about it more!
The Think 100% Perfect Placement is a guarantee for giving our clients confidence that they have nothing to lose in working with us. And we are so confident in our ability to find the best candidates for the roles they ask us to recruit for, that we've put the guarantee in place.
How does it work?

You'd get 100% refund on your fee if a candidate leaves within 100 days of their start date (permanant placement).
And if its a temp role, you get a full days 'working interview' - meaning the candidate works a day with you in the role.
If they don't meet the expectations - you won't be charged for their time. We just ask that you give us the opportunity to find a replacement for you into the same role.
No hidden agenda, terms and conditions or small print. We simply ask that you stick to the agreed payment terms between us and a pre-agreed period of exclusivity.
So its a win/win situation. You've got nothing to lose in trying us out - and a money back guarantee on a service so many of our clients are happy with.

Get in touch today - we'd be really happy to work with you.
Share